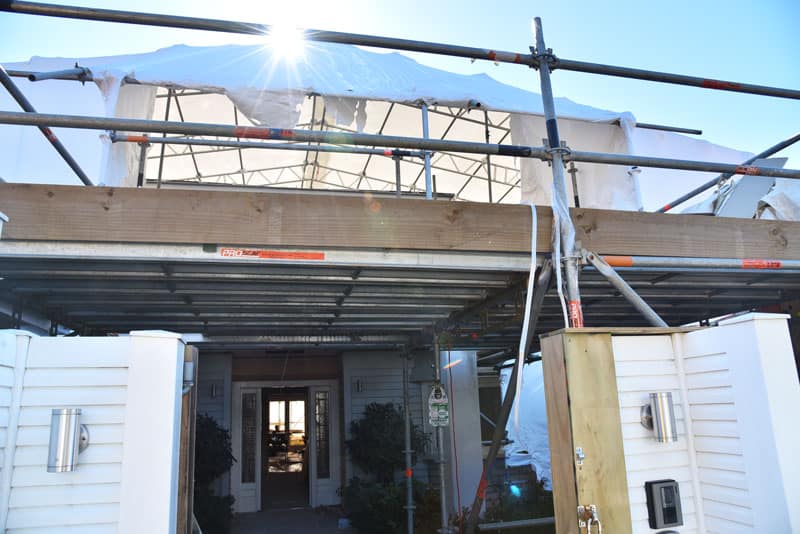 Exterior House Painting in Summer
Summer is a great time to undertake an exterior house painting project. Auckland's long days and settled weather make between early Nov and late May the best times of year to paint your house.
So, if you've decided to paint your house this summer, we have some tips that will make the job run a little bit easier.
PREPARATION IS KEY
The key to a great finish starts in the preparation and whilst you may find the prep even more tiring in the heat, 75% of the job is in the washing, stripping, sanding and filling that is done before the house painting begins. It's a big part of the project, but worth the effort.
We always recommend a house wash at the start of the job and use Premium House Washing. Barry and his team have never let us down.
PAINT AROUND THE SHADE
The best advice we can give you when working on bright sunny days is to work around the shade. This not only protects you from the sun and helps you see what you're doing, but also stops the paint from drying out too quickly
If you are painting in direct sunlight the surface temperature you are painting can be 10 -15 degrees higher that the temperature you're working in.  By painting in direct sunlight, you run the risk of the paint drying too quickly. When paint dries too quickly it leaves brush marks, looks ropey and flashes (the surface has a shimmering effect).
We always paint from right to left – laying off (or smoothing off) back into the wet paint. Work quickly and cover small areas at a time e.g. take one weather board through at a time. This helps you maintain a wet- edge on your brush and helps you avoid painting areas you have already covered. Working right to left will help you get a great finish.
USE HOT WEATHER PAINT THINNERS
When you're painting with water based enamels in summer we recommend using hot weather paint thinners to slow down the drying time and to leave you with a wet edge for longer. Resene supplies good quality thinners to ensure the paint doesn't dry too quickly and cures properly.
RECOMMENDED DRYING TIMES
Although it may be tempting to shorten the drying time in the hope you put on an extra coat of paint, we always recommend following the manufacturers' recommended drying times. In good conditions you can hope to get two and sometimes three coats completed in a day.
BE SUN SMART
The Auckland sun can be harsh so make sure you're sun smart:
Use sunscreen
Wear a hat and sunglasses, and cover up from the sun
Drink lots of water so you don't get dehydrated
If you do need to work in direct sunlight it is a good idea to put up a shade cloth or tarp to stop the paint drying too quickly and to help you see what you're doing.
CONCLUSION
Summer is a great time to paint your house. Careful preparation and following our painting tips will help get a great paint job that lasts.
If you would like Sensation Painters to help with painting your house, get in touch with Paul for advice or a quote.