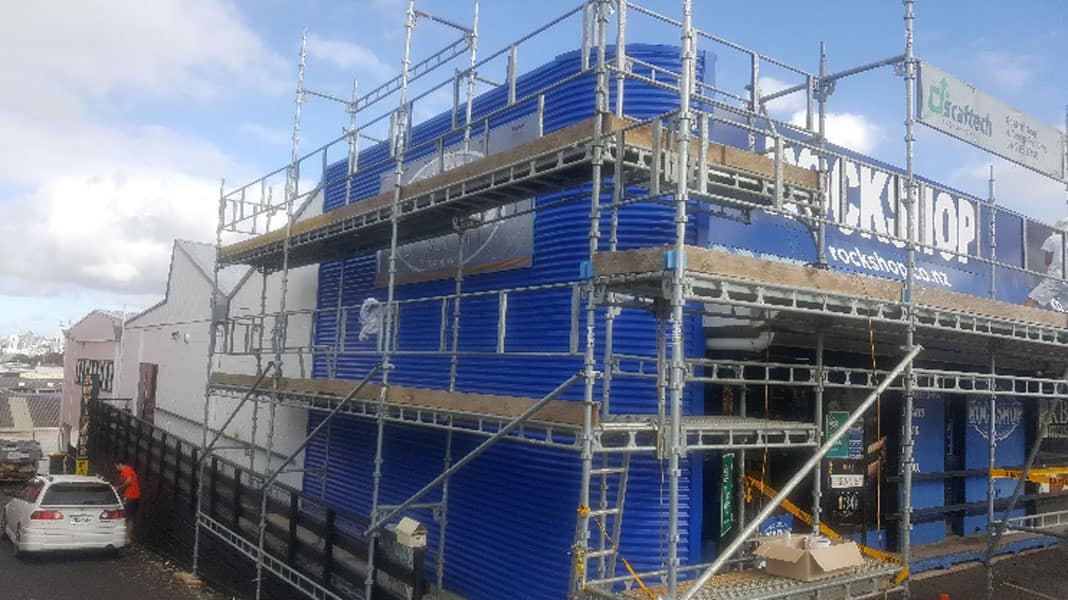 Falls:
Investigations by WorkSafe into falls, while working at height, show that more than 50% of falls are from less than three metres and approximately 70% of falls are from ladders and roofs.
The Good Practice Guidelines working at Height in NZ, provide health and safety guidance to all people working at height and those involved in the planning and preparatory stages of any project that includes work at height.
Regulation 21 of the HSE Regulations is the source of the often-quoted "three-metre rule".  It is mistakenly believed that no controls are needed where a person faces a fall of less than three metres.  That belief is wrong and ignores the overarching duties in the HSE Act.
At Sensation Painters the most effective system we have found, to minimise our risk of falls from heights is Scaffolding and for this we use Scaftech Ltd.
Scaffolding:
Scaffolds are a common way to provide a safe work platform. There are a wide variety of scaffolding systems available.
All scaffolds should comply with the Scaffolding, Access & Rigging NZ (SARNZ) Best Practice Guidelines for Scaffolding in NZ or equivalent guidelines or a higher standard.
All scaffolds should be erected, altered and dismantled by persons who have been trained and have suitable experience with the type of scaffolding being used.
All scaffolds from which a person or object could fall more than five metres, as well as all suspended scaffolds, should be erected, altered and dismantled by or under the direct supervision of a person with an appropriate Certificate of Competency.
All scaffolds shall be supplied with adequate information for the scaffold user, such as a scaffold tag or handover certificate. The information supplied shall include:
its intended use
safe working load
dates of inspection (as applicable-the scaffold provider can advise the frequency of these dates)
manufacturers' instructions for assembly
any special conditions and limitations.
If a scaffold has been altered, modified, tampered with and/or appears to be unsafe, the scaffold shall not be used until it has been checked and certified as safe by a competent person as outlined in the SARNZ Best Practice Guidelines for Scaffolding in NZ.
Mobile Scaffold:
Where work is performed using mobile scaffolds, employers should ensure that workers understand that the scaffold should:
be erected by a competent person and used in accordance with the manufactures' specifications
remain level and plumb at all times
be kept at least one metre from open floor edges and openings unless the edges protected, to prevent the scaffold tipping
never be accessed until all the castors are locked, to prevent movement
never be moved while anyone is on it
be clear from overhead powerlines