Painting Tips – March 2019
Feature Walls
Which wall is the right wall for a feature wall?
Generally, the feature wall will be the wall that is naturally the focal point of the room. If you have a fireplace it will usually be the feature wall. Ideally, a feature wall will be relatively free of clutter and window, so paint colour or wallpaper doesn't need to compete for attention.
Think beyond your walls too. Could you make a feature of your doors, ceilings or a piece of furniture?
Be aware of Wet Paint and Colours:
When you are viewing or choosing colours, give the paint or test pot a chance to dry first, before you decide if the colour looks right. The paint colour will look different wet, then dry.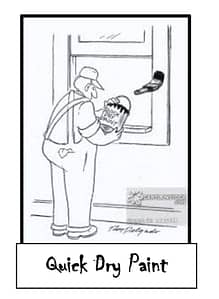 Colours dry darker than when the colour is wet.  Just like wet concrete, there is something about wet paint that attracts kids, pets, insects and even adults. Use Wet Paint signs and notes or barricade off freshly painted areas.
Wash Brushes: (boring)
No one likes washing brushes and rollers out. If you know you will be painting over short periods or every day. Why not wrap brushes, put the roller sleeve in a plastic bag or glad wrap or in zip lock bags?
It keeps the paint moist, so your gear does not harden.