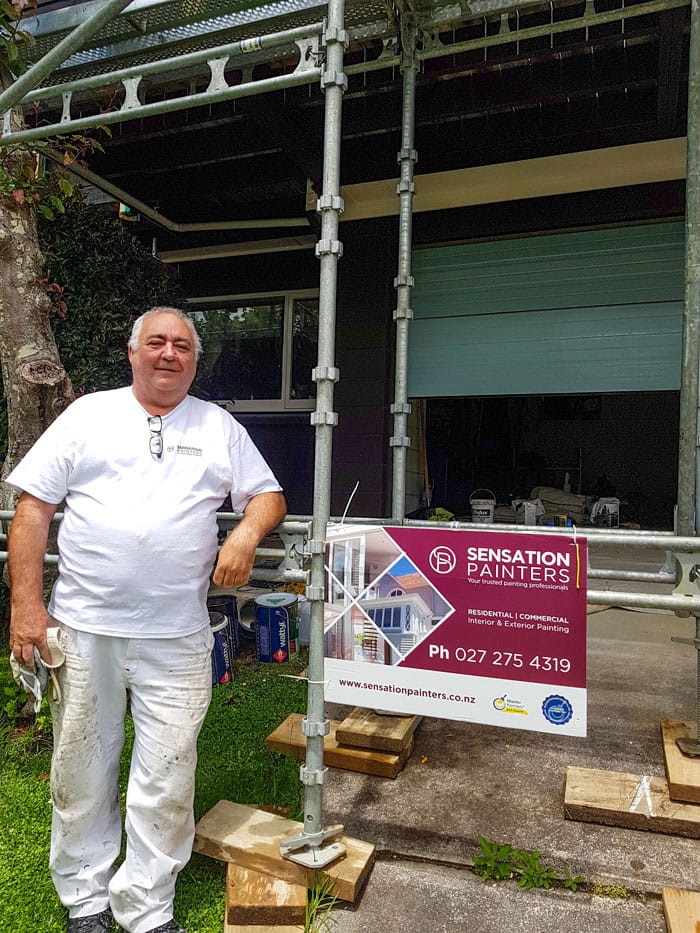 Brian Spurr – A Lifetime of Painting
Brian Spurr – Tradesman Painter and Decorator
A South Auckland lad from Otara, Brian Spurr gladly left school at 15 and went straight into the workforce, assembling wheel chairs.
His long-term desire was to be a mechanic. He had spent much of his boyhood under a car chaise, alongside his dad. Night school provided learning in, welding and panel beating. Still living at home, Brian bought his first vehicle at 15 ½, a van, with a bank loan of up to 2/3 for a commercial vehicle. Fate struck 18 months later when Brian broke his leg badly riding a mini bike.
The company he was working for at the time, insisted he buy his own aluminium crutches; even though he had assembled hundreds of them! However, the recuperation time meant months off work. No ACC compensation in those days. Yet six months on, news that Ford were to open a new assembly factory meant jobs were offered. So, at 17, and newly out of plaster, Brian started with Ford Motor Company as a Metal Finisher. Car bodies moved along a conveyor belt as Brian had to shuffle along with them, pressing dents and sanding the steel. Lead paint no less. He said that even after a shower, once his hands and lower arms started to heat up, the lead particles within, discoloured his skin.
The factory noise from air drills was diabolical and working conditions uncomfortable. PPE gear was not even a consideration for staff in those day. No ear protection was worn, nor offered. The only stipulation was a hair net. Being scalped by moving parts of machinery was a good incentive to go 'Ena Sharples', as mullet hair styles were fashionable at the time.
Oddly, urine tests were done weekly and each man was provided with a pint of milk a day – to deplete lead levels. Brian was never alerted to any health concerns, yet after 3 years he had begun to suffer badly from migraines. It was 1975 and Brian was now 20 years old.
Ready for a change, Brian was offered employment by a friend 10 years his senior. As a sole operator the friend worked with a brother, painting state homes. South Auckland was expanding, and work for trades was plentiful. Housing development was flourishing, and Brian was glad to be outside. It was hard work, long hours and often repetitive. He learnt to fill, sand and paint from scratch. His boss only accepted the very best from his men and taught Brian to strive for quality and be proud of even the smallest job. High standards were expected because Quality Control from the Government inspectors meant you would keep your employ. They were painting for Sunline Homes who used Onehunga Timber, milled from their own trees. These homes had varnished interiors. Sanded to the touch of velvet, sanded again and then 1 coat of cellac crystal mixed with mentholated spirits. No mask, no filters and one cracking headache. Finished off with 2 coats of polyurethane. Such preparation ensured that even after 25 years and more, these efforts stood the test of time.
Character building challenges came thick and fast for young Brian. His beloved dad died at 56, leaving his mother with 4 children. Brian was able to contribute and continued to travel from Otara early in the mornings to his work sites out in Massey and Henderson. Labour only hours meant, no work, no pay, and certainly no sick pay.
The Neil Housing Company produced group housing, so locations were steady for up to 12 to 18 months. During the late 70's Brian developed his skills on affordable, 3-bedroom homes. Ten designs in various shades of pastel. Brian became hardened to the elements, preparing and painting exteriors over the next 4 years, out in Otara, East Tamaki and Pakuranga. There was no bad weather. If the rain came from one direction, he would paint the sheltered end, away from the elements. Brian would have 4 to 6 houses on the go at any time, so there was plenty to be going on with. In those days, a developer would build and then sell. The popular colour schemes were cream, brown, greens and avocado toilets were the rage. Only 4 days off in 4 years holds testament to his tenacious character.
The building industry used fibre light boards, cut with skill saws. Dust clouds would fill the air with asbestos. No masks, no filters. Dust and grim would collect and harden onto the boards and the painters were again in the vulnerable position of sanding the surface smooth. Brian and his colleagues learnt the art of colour tinting paints. Dulux was a major player, yet it was common for painting trades to colour match, from a colour card using a white base and tint.  Wholesale white was purchased from Otaki Paints and pastels a plenty were created by hand. No codes, no specific formulas, just on-the-job know how. Resene, along with many paint manufacturers produce numerous blends and colour variations nowadays, yet Brian can still visually match a light or dark pastel, easy.
Putty had to be colour matched to the changing native timber shades. 'You could have up to 6 different shades around one window pane. Nowadays, it comes already pigmented.' Working at heights needed a fearless attitude and good balance. A popular method was to use double or triple ladders with a plank braced with a chain and hook on the rung. No safety harness, often up 3 stories. 'Each plank had to be adjusted a rung at a time, until you got to the desired height.' Roof painting was not Brian's preference as it took a toll on joints.
At Ironside Painting, Brian took on leadership and ran 5 to 10 guys on light industrial repaints.  Back then, a rare thing to find women in the trade.
After 20+ years, his trades skills well established, Brian left home to marry June. He moved into self-employment, BA Spurr Painting, preferring to work for himself and by himself. A natural loaner, Brian has mentored many.
Currently, a sub-contractor to Sensation Painters, he demonstrates the importance of getting the job done well, calling on good, old fashioned grit and maintaining a sense of humour at all times. Brian says, 'seeing the vision to the end result, is not just a coat of paint, but a talent. Every job, no matter the size, has its value. Taking personal pride in one's work, can be its greatest reward.' He has learnt much over the years, listening to his mentors, working along-side his peers, and passing his skills onto younger apprentices. He says, 'Simple victories motivate.'
Brian's dad used to tell him 'don't live your life for later'. Family is important to Brian; his parents spent summers at the Coromandel, Tairua Camp ground, fishing and swimming. His dad made work look like fun, volunteering his kids to clean up the grounds filling a 44-gallon drum with rubbish.
Sadly, June passed away in February 2017. Brian's step son, married Brian's younger sister, thereafter, Brian was known as 'Uncle Gramps'. Her loss still raw and felt keenly. June was always up for adventure, as Brian and his wife used to take drives out to Raglan via the metal roads or over to Thames during a nice afternoon. Arriving in time for a milkshake and then the return trip home. Nature a stronghold of their companionship.
Retirement will be well earnt after 40 odds years on the brush, and may take the shape of a fishing boat, a caravan, and a small plot of land. Until then, Brian will continue to balance his work and play – dust mask optional!